We have ventured to undertake an overseas cooperation – again! This time, we've gone all the way to the other side of the world. We would like to introduce you to another highly valuable cooperation partner.
Edvec publishes a range of educational materials for over 1,200 educational institutions all over Japan. The materials are focused on English language learning. However, Edvec is not limited to English language materials. Educational Venture Corporation was established in 1997. Ever since then, the corporation has been providing educational materials and software, as well as classroom management tools and teacher training programs. Their materials are used by clients all over the world. The main focus and specialisation are the development and delivery of 4-skills, self-study, English, Japanese and Chinese language training programs. Additionally, Edvec also provides maths programs for K-12 learners.
Their best-selling language learning program is MyET (My English Tutor). MyET is a self-study listening and speaking training app that is used all over the world. It analyses spoken language and provides feedback. Users become more fluent and confident when speaking. Nihongo dojo is their newest program. It aims to help people learn Japanese online through self-study.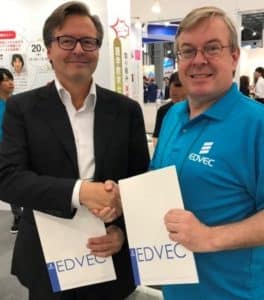 Edvec has actively engaged in the global market in education since 2015. At present, it proudly collaborates with educational providers in Austria, Germany, the UK, Canada, the USA, France, Japan, China, Hong Kong, Taiwan, Singapore, Indonesia and India. Their main goal is to provide their clients with the highest quality educational products. Furthermore, their mission is to provide support and expert consulting services.  Their consulting services are based on the latest academic research.
Together with Edvec, we believe that learning is a lifelong process. Development empowers every person to grow on an individual level and contribute positively to society. Our joint goal is to support learning at home, at school, in the workplace or in the community. How? By meeting the ever-changing need of our customers. Ultimately, our vision is to help our customers realise their goals through education.
But what is the most effective way to learn? When the process is embedded in a playful and emotive context: that's when learning takes place almost automatically. With the support of Edvec, we would like to continue spreading this recipe for success worldwide. As a result, we are very much looking forward to our forthcoming cooperation.