Our newest NGO partner from Latin America is the Gloria de Kriete Foundation from El Salvador. The goal of this NGO is to provide Salvadoran children with wider and better opportunities for securing a positive future. Introducing our newest NGO partner, we are especially delighted that we share an important common goal. We aim at the positive development of our global community – securing futures on a regional level.
The Gloria de Kriete Foundation was established in December 2004 on the initiative of Mrs de Kriete's seven children. This non-profit foundation was established primarily to perpetuate her memory and continue her social commitment. The foundation works across generations to build a society based on solidarity which is committed to the holistic development of Salvadorans. This includes, crucially, health and education programmes such as the Ayudando a Quienes Ayudan ('Helping Those Who Help') Award which rewards community development, entrepreneurship, youth and prevention.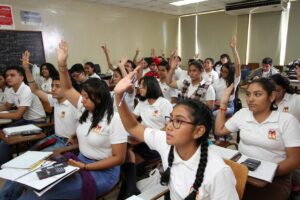 Committed to community development
The Gloria de Kriete Foundation aims to promote the spirit of solidarity and lead by example. The organisation develops its own projects and supports organisations that work for the welfare and improvement of living conditions for Salvadoran families. Its goal is to develop projects with a social character which are especially beneficial for Salvadoran children. The foundation's mission is to help the most affected groups within the population in particular. By supporting other initiatives, the NGO takes care of basic needs in the areas of education and health. As a result, over 2.4 million lives have been positively impacted in Salvador through access to health, education, community development, entrepreneurship, youth and prevention initiatives.
Social entrepreneurship – solidarity above all else
The Gloria de Kriete Foundation is particularly passionate about calling on all Salvadorans to show solidarity with their country. As part of a new initiative, since 2018 it has been increasingly rewarding small projects that offer solutions to key issues in an innovative way. This gave rise to 'Social Entrepreneurship' or the 'Community Project'.
The Ayudando a Quienes Ayudan Award ('Helping Those Who Help' Award).
This award is given through a competition. The award is aimed at non-governmental social institutions with projects in El Salvador. It recognises and provides financial support to institutions and/or associations or groups that show commitment to the development of community projects in any part of the country. The evaluation criteria include, above all, transparency, good fund management and outstanding development.
Introducing our newest NGO partner is such an honor for us. It helps us contribute to our global education plan in terms of languages. Our team is beyond happy that we can continuosly improve the lives of thousands of people.