Yes, Vision Education actually made the FINAL! But no, it's not what you think. It wasn't a football final. 😛 We made it to the EdTechXEurope Final!
We were among the TOP 20 EdTechXGlobal Award 2019 Startup Finalists at EdTechXEurope. This position put us in good company, alongside CENTURY Tech, StudySmarter, Eduten, New Campus, iHeed and Chalk. Being surrounded by such inspiring business minds truly enriched us.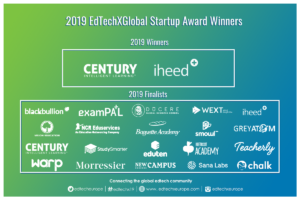 But what is EdTechXEurope?
EdTechXEurope is the learning community's largest get-together. It took place for the 7th time this year. The awards ceremony was held on 18 June in London's The Brewery. Over 900 thinkers from over 60 countries came together to exchange ideas, innovations and technologies. "Learning is the New Tech" was the motto. Awards were presented in three categories: EdTechXGlobal Startup Awards, EdTechXGlobal Scale-Up Awards and EdTechXGlobal Impact Awards. Vision Education was nominated in the EdTechXGlobal Startup category. There the focus was on the most significant innovation and the biggest growth in 2018. A global jury had to consider a number of factors, including scale and market impact. The same jury selected the finalists and winners of the EdTechXGlobal Startup.
We warmly congratulate the winners in each category. Also we look forward to remaining connected with them in the years to come. Together we can contribute and make this world a better place. We are convinced of that.
More information is available at: http://ecosystem.edtechxeurope.com/2019-edtech-startup-award-winners