Dear LearnMatch friends,
Language is all about connecting people, and for that reason, Kern AG and Vision Education are excited to be working together.
An increasing number of companies are operating on a multinational scale and want to position themselves successfully on the global market in terms of language. Kern AG, as Germany's largest full-service provider for foreign language communication, and Vision Education, Austria's award-winning language learning provider, bundle their strengths together and provide the automotive industry with fresh and exciting input.
Industry-specific training
The trend towards internal training across the industry continues to rise. The support of various language service providers is indispensable for the internationalisation of the company's own continuing education programmes. Efficient, flexible and relevant solutions have top priority. State-of-the-art mobile and online tools that offer methodical learning approaches with video, photo and audio elements are extremely promising. Interactive activities and regular testing of learning guarantee fast and sustainable learning success. With the launch of our language learning app for the automotive industry, KERN AG and Vision Education are leading the way in terms of modern in-house training implemented in digital form.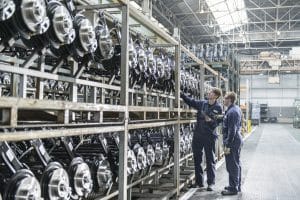 Development of the project
The leading language trainer 'phase6 Berufe' supports professionals in improving language competence and subject-specific vocabulary. Through combining the proven methodology of phase6 and new innovative LiveMatch technology, the app represents interactive learning through fun. It promotes internal communication and develops crucial knowledge which leads to greater productivity and quality of work. In cooperation with KERN AG, Vision Education can now guarantee the highest quality in up to 22 languages.
What services does KERN AG offer?
KERN AG, headquartered in Frankfurt am Main, was founded in 1969 and is regarded as the leading full-service provider in the field of global language management. The AG has over 60 offices in Germany, Austria, France, Great Britain, Poland, the Netherlands, the USA and China. The company offers translation and interpretation services in all world languages, software and website localisation, technical editing, terminology and translation memory management as well as much more.
We look forward to further developing our relationship with Germany's largest full-service provider for foreign language communication.